Evaluation of IL-1α and IL-10 Asociation with Acne In The Province of Thi-Qar
Keywords:
Acne vulgaris, IL-1α, IL-10.
Abstract
This study was conducted in the labs of the College of Education for Pure Sciences, Al-Hussein Educational Hospital and Al-Nahrain Specialized Laboratory of the Health Department of Thi-Qar province, during the period from October 2018 to March 2019. The study included of 100 blood sample of patients with acne (39 males) and (61 females) and their age between 10-35 years. The patients were divided into groups according to age stages to three age groups. The age group 10-20 years is the most prevalent group 52/100 (52%). Followed by patients group 21-30 years was 42/100 (42%) and patients group more than 31years was 6/100 (6%). Blood serum was isolated by using centrifuge and examination was performed by using ELISA technique.
The current study showed detection of the level of some cytokines and their relationship to acne vulgaris, where included measuring the concentration of interleukins in the blood of persons with acne and comparing them with healthy persons including interleukin-1α and interleukin-10.
The results of the statistical analysis showed a high significant increase (p <0.05) in patients with acne in concentration of the (IL-1α) and (IL-10), where they were examined for 70 samples of acne patients, and 20 healthy samples in the control group. The results showed a significant increase (P<0.05) in the levels of interleukins in the serum (IL-1α, IL-10) in all acne patients compared to control group.
References
Williams, H. C., Dellavalle, R. P., & Garner, S. (2012). Acne vulgaris. The Lancet, 379(9813), 361-372.
Younis, S., & Javed, Q. (2015). Theinterleukin-6 and interleukin-1A gene promoter polymorphism is associated with the pathogenesis of acne vulgaris. Archives of dermatological research, 307 (4), 365-370.
Karadag, A. S., Ertugrul, D. T., Bilgili, S. G., Takci, Z., Akin, K. O., & Calka, O. (2012). Immunoregulatory effects of isotretinoin in patients with acne. British Journal of Dermatology, 167(2), 433-435.
Dreno, B., Poli, F., Pawin, H., Beylot, C., Faure, M., Chivot, M., ... &Revuz, J. (2011). Development and evaluation of a Global Acne Severity scale (GEA scale) suitable for France and Europe. Journal of the European Academy of Dermatology and Venereology, 25(1), 43-48.
Slayden, S. M., Moran, C., Sams Jr, W. M., Boots, L. R., & Azziz, R. (2001). Hyperandrogenemia in patients presenting with acne. Fertility and sterility, 75(5), 889-892.
Rahman, M. M., Sikder, M. A. U., Rashid, M. M., Khondker, L., Hazra, S. C., & Nessa, M. (2012). Association of serum testosterone with acne vulgaris in women. Bangabandhu Sheikh Mujib Medical University Journal, 5(1),1-5.
Beutler, B. (Ed.). (1992). Tumor necrosis factors: the molecules and their emerging role in medicine (Vol. 925). Lippincott Williams & Wilkins.
Dinarello, C. A. (1996). Biologic basis for interleukin-1 in disease. Blood, 87(6), 2095-2147.
Guy R, Kealey T. (2006). The effects of inflammatory cytokines on the isolated human sebaceous infundibulum. J Invest Dermatol. 110: 410–5.
Kawaguchi, Y., Tochimoto, A., Hara, M., Kawamoto, M., Sugiura, T., Saito, S., & Kamatani, N. (2007). Contribution of single nucleotide polymorphisms of the IL1A gene to the cleavage of precursor IL-1αand its transcription activity. Immunogenetics, 59(6), 441-448.
Howard, M., O'Garra, A., Ishida, H., de Waal Malefyt, R., & De Vries, J. (1992). Biological propertiesof interleukin 10. Journal of clinical immunology, 12(4), 239-247.
Rasool, L. M. (2017). Study of bacterial causative agents of acne and the effect of some antibiotics onthem. Al-Fatih journal, 13(72), 60-69.
Nada, E. A. A. (2012). Tissue liver x-receptor alpha (LXRα) level in acne vulgaris.
White, A. (2015). The Effects of a Low Glycemic Load Diet on Acne Vulgaris in Adolescents and Young Adults.
Elhannan, S., Taha, S., Ben Khalaf, N., Bakheit, H., Fathallah, M. D., & Bakhiet, M. (2015). Induction of dissociated cytokine profiles by ISRAA with selective critical involvement of ERK1/2 in its signaling functions. International journal of molecular medicine, 36(6), 1583-1592.
Ingham, E., Eady, E. A., Goodwin, C. E., Cove, J. H., & Cunliffe, W.J. (1992). Pro-Inflammatory Levels of Interleukin-1α-Like Bioactivity Are Present in the Majority of Open Comedones in Acne Vulgaris.Journalofinvestigativedermatology,98(6),895-901.
Jeremy, A. H., Holland, D. B., Roberts, S. G., Thomson, K. F., & Cunliffe, W. J. (2003). Inflammatory events are involved in acne lesion initiation. Journal of Investigative Dermatology, 121(1), 20-27. 18. Defrance, T., Vanbervliet, B., Briere, F., Durand, I., Rousset, F., & Banchereau, J. (1992). Interleukin 10 and transforming growth factor beta cooperate to induce anti-CD40-activated naive human B cells to secrete immunoglobulin A. Journal of Experimental Medicine, 175(3), 671-682.
Itoh, K., & Hirohata, S. (1995). The role of IL-10 in human B cell activation, proliferation, and differentiation. The Journal of Immunology, 154(9), 4341-4350.
Del Prete, G., De Carli, M., Almerigogna, F., Giudizi, M. G., Biagiotti, R., & Romagnani, S. (1993). Human IL-10 is produced by both type 1 helper (Th1) and type 2 helper (Th2) T cell clones and inhibits their antigen-specific proliferation and cytokine production. The Journal of Immunology, 150(2), 353-360.
Igietseme, J. U., Ananaba, G. A., Bolier, J., Bowers, S., Moore, T., Belay, T., ... & Black, C. M. (2000). Suppression of endogenous IL-10 gene expression in dendritic cells enhances antigen presentation for specific Th1 induction: potential for cellular vaccine development. The journal of immunology,164(8),4212-4219.
de Lafaille, M. A. C., & Lafaille, J. J. (2002). CD4+ regulatory T cells in autoimmunity and allergy. Currentopinion inimmunology, 14(6),771-778.
Levings, M. K., Bacchetta, R., Schulz, U., & Roncarolo, M. G. (2002). The role of IL-10 and TGF-β in the differentiation and effector function of T regulatory cells. International archives of allergy and immunology, 129(4), 263-276.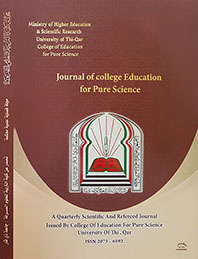 Downloads
License
The Authors submitting a manuscript do so on the understanding that if accepted for publication, copyright of the article shall be assigned to Journal of education for Pure Science (Jeds), University of Thi-Qar as publisher of the journal.
Copyright encompasses exclusive rights to reproduce and deliver the article in all form and media, including reprints, photographs, microfilms and any other similar reproductions, as well as translations. The reproduction of any part of this journal, its storage in databases and its transmission by any form or media, such as electronic, electrostatic and mechanical copies, photocopies, recordings, magnetic media, etc. , will be allowed only with a written permission from Journal of education for Pure Science (Jeds), University of Thi-Qar.
Journal of education for Pure Science (Jeds), University of Thi-Qar, the Editors and the Advisory International Editorial Board make every effort to ensure that no wrong or misleading data, opinions or statements be published in the journal. In any way, the contents of the articles and advertisements published in the Journal of education for Pure Science (Jeds), University of Thi-Qar are sole and exclusive responsibility of their respective authors and advertisers.