Prepare heterostructure of MoS2/TiO2 solar cell via simple two-steps by hydrothermal method
Keywords:
norganic semiconductor, TiO2, MoS2, nanorods, solar cells, hydrothermal mathod
Abstract
Organic dyes employ in traditional Dye-sensitized solar cells (DSSC) results in both high cost and
low stability under light exposure. In this study, we present an inorganic semiconductor
heterostructure solar cell based in ordered thin film of MoS2 deposited on one-dimensional nanorods
array of TiO2 which were produced via simple two-steps by hydrothermal method. The solar cell
MoS2/TiO2 heterostructure exhibit a good fill factor, and a greatly enhanced power conversion
efficiency. The research presented here will provide a path for creating heterostructure inorganic
materials for highly efficient solar cells
References
J. Dong et al., "Boosting heterojunction interaction in electrochemical construction of
MoS2 quantum dots@ TiO2 nanotube arrays for highly effective photoelectrochemical
performance and electrocatalytic hydrogen evolution," Electrochem. commun., vol. 93, pp.
–157, 2018.
M. D. Patel, J. Zhang, J. Park, N. Choudhary, J. M. Tour, and W. Choi, "Directly deposited
porous two-dimensional MoS2 films as electrocatalysts for hydrogen evolution reactions,"
Mater. Lett., vol. 225, pp. 65–68, 2018.
"Influence of growth time on structural, optical and electrical properties of TiO2 nanorod
arrays deposited by hydrothermal method," Surf. Rev. Lett., vol. 26, no. 03, p. 1850155,
J. Wan et al., "Hydrothermal etching treatment to rutile TiO 2 nanorod arrays for
improving the efficiency of CdS-sensitized TiO 2 solar cells," Nanoscale Res. Lett., vol.
, pp. 1–9, 2016.
X. Feng, K. Zhu, A. J. Frank, C. A. Grimes, and T. E. Mallouk, "Rapid charge transport in
dye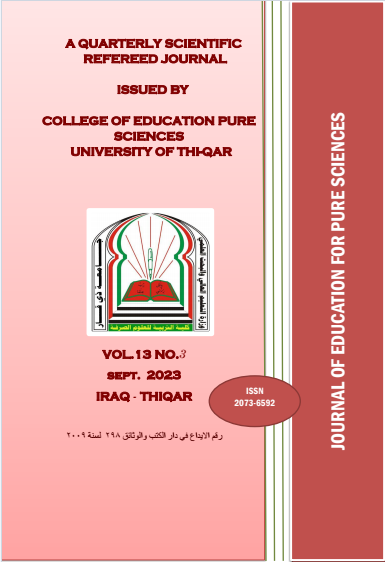 Downloads
License
Copyright (c) 2023 Journal of Education for Pure Science- University of Thi-Qar
This work is licensed under a Creative Commons Attribution-NonCommercial-NoDerivatives 4.0 International License.
The Authors submitting a manuscript do so on the understanding that if accepted for publication, copyright of the article shall be assigned to Journal of education for Pure Science (Jeds), University of Thi-Qar as publisher of the journal.
Copyright encompasses exclusive rights to reproduce and deliver the article in all form and media, including reprints, photographs, microfilms and any other similar reproductions, as well as translations. The reproduction of any part of this journal, its storage in databases and its transmission by any form or media, such as electronic, electrostatic and mechanical copies, photocopies, recordings, magnetic media, etc. , will be allowed only with a written permission from Journal of education for Pure Science (Jeds), University of Thi-Qar.
Journal of education for Pure Science (Jeds), University of Thi-Qar, the Editors and the Advisory International Editorial Board make every effort to ensure that no wrong or misleading data, opinions or statements be published in the journal. In any way, the contents of the articles and advertisements published in the Journal of education for Pure Science (Jeds), University of Thi-Qar are sole and exclusive responsibility of their respective authors and advertisers.